Hello Awakening Healer!
I'm very picky about how I choose to spend my time and energy these days.
As I'm allowing my creativity to flow, I'm finding I need more space to spread out and get messy so I've officially adopted the "less is more" motto when it comes to my schedule and calendar.
#BoundariesForTheWin!
Today I'm writing with one final invitation to join me for the Transformational Healer's Summit coming up--it's free and virtual!
Why should you put this on your calendar?
Well, here's why I did...
Right now I have a lot on my plate.
Not in that overwhelming, drowning kind of way, but in a deeply creative, aligned kind of way.
I've learned there's a difference between the two.
Have you noticed that?
I've got a new website brewing (stay tuned for a sneak peek next week!), a new suit of cards for the Messages From Shadow Oracle Deck that feature the shadows of all 12 astrological sun signs in progress (Whoa, magic!), and I'm also bringing through a healing system of 12 Healer Archetypes so you can discover yours and nurture it to activate the and awaken your full healer potential.
With all of this in progress, I said YES to Arianna Gray when she invited me to be one of 21 speakers on the upcoming Transformational Healer's Summit....
Because, self care.
It matters.
Our souls are calling for it.
Our work demands it.
And Arianna gets this and has devoted an entire week of conversation with 21 of our colleagues to open this sacred dialogue so we can pause, breathe, and notice how we are showing up for ourselves in the process of showing up with others as healers.
When we are trying to align with the flow of bringing our healing work to life whether that looks like welcoming clients into your practice for 1-1 sessions, healing groups, virtual events, workshops, retreats, writing, speaking, creating products or anything else, there asks to be a level of consciousness around our self care to create the space to hold these offerings as they come to life.
If you're ready to activate a new and precious level of self care, then you may find it resonating to add this event to your calendar and if so, I'm excited to get this conversation started with you! 
Join me for this free virtual event as we take a deep dive into our work and what it means to birth it from a grounded place of wholeness and connection.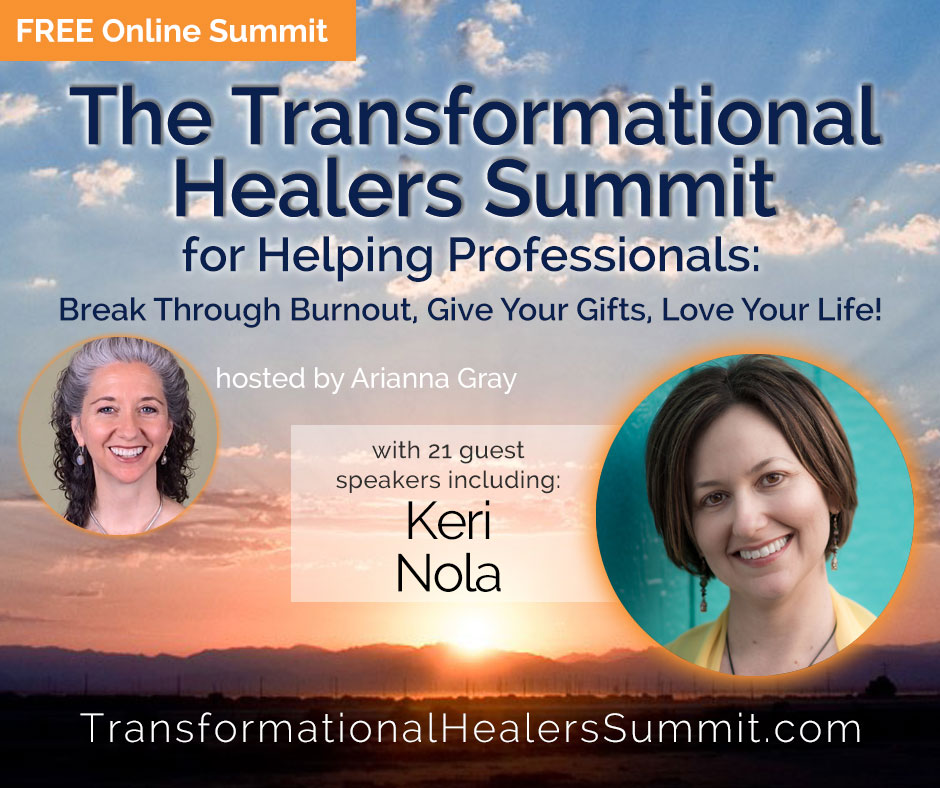 It's an honor to be a part of this experience and I can't wait to hear how you allow it to support you!
Gently inward and onward,
Keri